Oooo, baby, this girl is gettin' AROUND today! I am spreading the love all over the inter-webs and I am sharing it with YOU (and you and you and you and…).
I'm guest posting on not one but TWO blogs today. I KNOW. I'm such a tramp.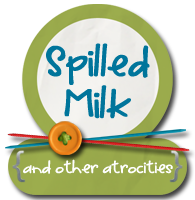 You can find me over at Spilled Milk (and other atrocities) where the brilliant and funny Law Momma let me wax eloquent about the life of a mommy blogger.
And the fabulous Kiran at Masala Chica is very generously letting me vent about the terrible cuteness gap between boys clothes and girls clothes.
So, go on! Go check my slutty self out!